Looking for an activity to tire out the kids which is fun for the whole family?  Great for burning off some energy, getting in your daily exercise, staving off cabin fever on a rainy day, Red Kangaroo has lots of different activities to keep everyone entertained.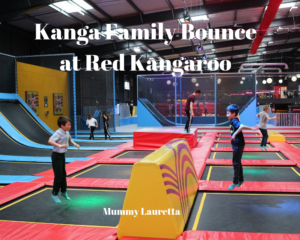 I'd taken the boys to a few Birthday parties at Red Kangaroo and once for a session with one of their friends but had never bounced myself so when the four of us were invited to enjoy a family bounce session together I "jumped" at the chance! Red Kangaroo Nottingham is situated just under six miles north of the city centre, easily reachable by car and public transport.  There is a big car park on site and the nearest bus stop is only a few minutes walk away.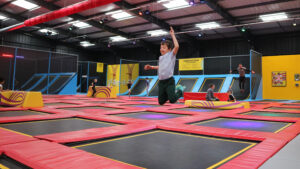 We arrived at the park about fifteen minutes before the session. This meant that we had time to check in and watch the safety video before our hour long session started. After watching the short safety briefing video we headed into the park.  We enjoyed exploring the different sections and stations. The boys loved jumping in the main trampoline area from one trampoline to the next and seeing how high they could go.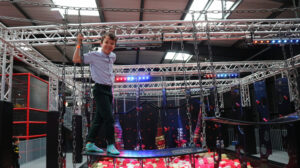 My boys have always loved climbing so really enjoyed swinging on these foam filled bags below and the bars in the ninja warrior course.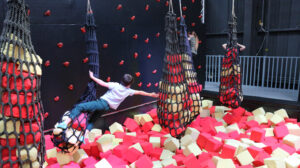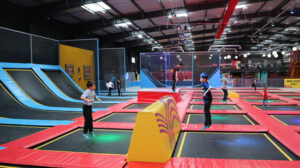 They thought it was brilliant that they could do a jump over trick on the tallest beam in the trampoline area.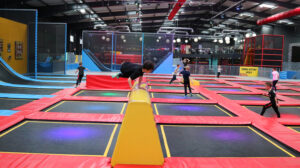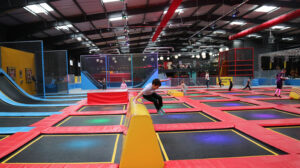 Another firm favourite was the gladiator beam, they were laughing so much, and also the balancing band next to it which is positioned over a large foam pit, great for cushioning your fall, even Daddy had a go.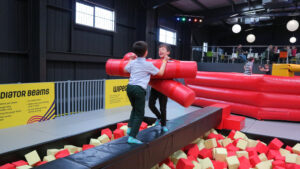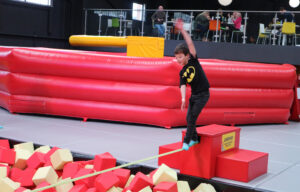 To check out some video of our time at Red Kangaroo click here to watch my Instagram Stories.
More information about Kanga Bounce Session:
Kanga Bounce is our most popular, all-action, unlimited access bounce session for every Roo of ages 4+, regardless of ability. From leaping off platforms to challenging yourself in our awesome wipeout zone or flipping out on our huge tumble tracks – this is the session for you.
Take on your friends, old and new in at dodgeball, smash the speed limit on the slide into our foam pits or unleash your inner chimpanzee on the high ropes and bars of our ninja warrior courses.
Access includes 100 trampolines, power tower, dodgeball, half pipes, gladiator beams, foam pits, slam dunk courts, tower jumps, tumble tracks, wall runs, wipeout zone and ninja courses.
*Some activities do have height, weight or age restrictions for safety reasons, these are covered in the briefing video.
After the bounce session we went upstairs to the cafe to have lunch. The boys chose a two flavour slush each and a pizza to share and I had a tea and toasted teacake.

More information about food and drink:
To bounce as big as a red kangaroo, it's important to make sure you keep your energy levels up. Whether you're looking for a mid-bounce snack, somewhere to relax over coffee and cake or for a home-baked pizza and slush treat, Café Roo is there to fill even the biggest of appetites. Serving hot and cold food and a range of thirst quenching drinks, we have created a relaxed and comfortable café seating area where you can keep an eye on your little ones from the mezzanine or find somewhere quieter for a bite to eat after your bounce.
Kids Box Deal: Sandwich, Yoghurt, Raisins, Milky Way, Drinks Carton or Water. £4.00
Coffee & Cake Deal: Any slice of cake, muffin or cookie and any hot drink. £3.50
Family Pizza deal: One 10″ pizza (margherita or pepperoni) and any two drinks (hot drink or bottle of water or small slush). £8.95
For an idea of the food and drink available see the sample menus here.
Our verdict:
We would definitely recommend Red Kangaroo to other families and will certainly be visiting again soon. There are so many different activities to keep everyone entertained and the food was great.   It's so easy and quick to find and book a session online. Just go to the website and click the red Book Now button.  Once you've purchased your socks on your first visit you can take them and use them again and again, there's no need to pay for them each time.  The viewing area means that parents who are not bouncing can sit upstairs and relax with a drink while being able to watch their children.
*Disclaimer: We were invited to a bounce session and to have a complimentary lunch in exchange for this blog post and social media coverage*
If you enjoyed reading this post you may also enjoy:
The Best Places to Eat in Nottingham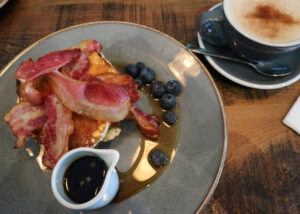 Jurassic Kingdom at Wollaton Park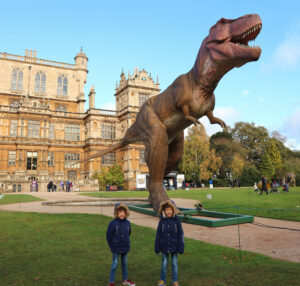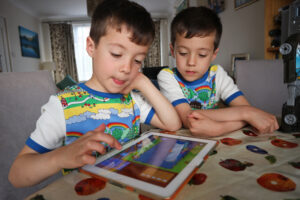 Why not Pin this post for later?: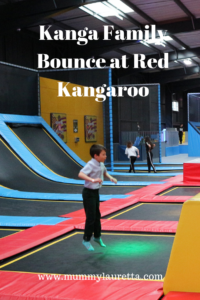 Linking up with #KCACOLS: