I'll always have a soft spot for Hull, my university city, the place I spent three years of my life, studying, having fun, growing up. I'd been promising the boys for ages that I would take them to see "Daddy Shark" i.e. a shark at an aquarium and as Matteo's parents were over to visit I suggested we go to The Deep.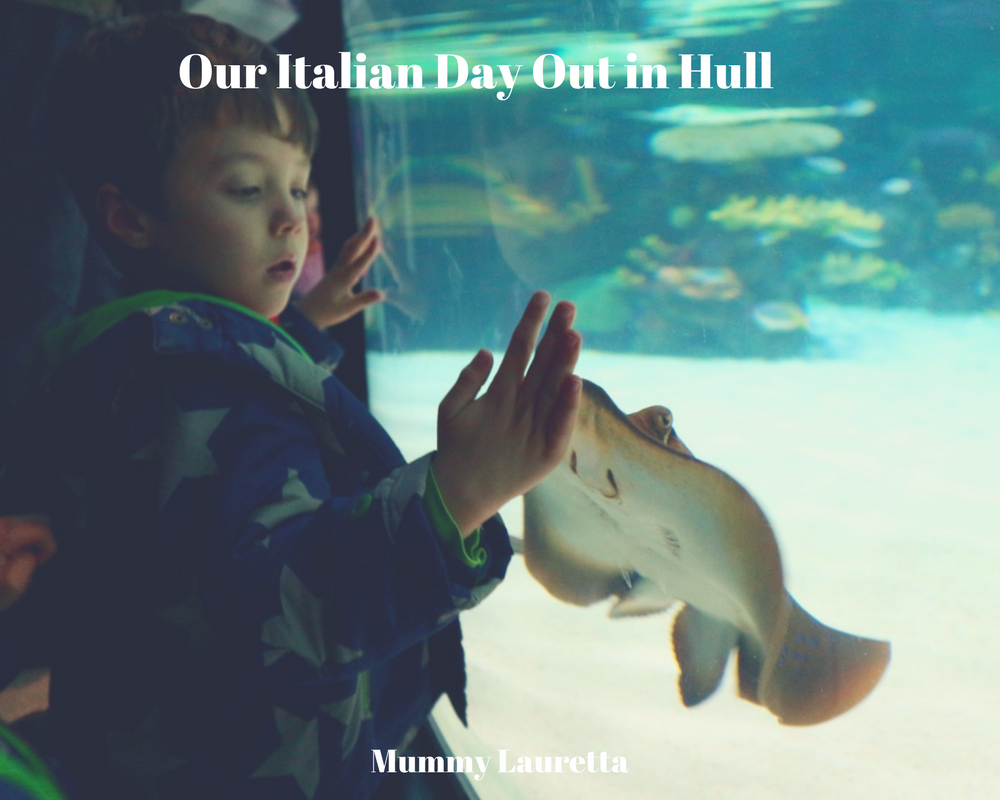 We arrived and parked up at the park and ride and headed into town on the bus. We asked the bus driver to let us off the bus at the nearest stop to the restaurant I had found online. It was slightly too early to eat so we went for a quick walk. It's always windy in Hull but we were prepared with plenty of layers, hats, scarves and gloves!
We made our way to Operetta. I'd just googled Italian restaurants in Hull and found it. I'm always keen to try new places and to stay away from the chains. The boys enjoyed looking around the restaurant. Matteo's Mum and Dad chatted to the owner. We ordered pizza and it was lovely. Oliver definitely enjoyed it and his chocolate ice cream too!
After lunch we walked through town to The Deep. Ethan & Oliver looked like two munchkins with their lollypops from the restaurant!
I'd pre-booked The Deep tickets online (as there is a 10% discount) so we just had to wait in a short queue to pick them up and then we went into the aquarium. We bought the Day Plus Pass which means that your tickets are valid for a whole year (apart from certain bank holidays).
The main highlights of the Aquarium for us were 1) The Lagoon of Light:
2) The Endless Ocean:
3) The new Penguin enclosure – The Kingdon of Ice. We loved watching them swim up and down and being fed:
We had a really good day, although it was quite long with all travelling and walking. Ethan was so tired from all the walking and fresh air that he didn't even wait until we got to the car to fall asleep, he fell asleep on the bus back to the car park! We were all ready for bed when we got home.
We'll definitely be back soon to use our tickets again.  We hope you enjoyed reading about our trip and seeing our photos.
If you enjoyed this post you may also like:
Jurassic Kingdom at Wollaton Park
The Best Places to Eat in Nottingham
Kanga Family Bounce Session at Red Kangaroo
Linking up with #KCACOLS:
SaveSave