Spring is officially here now but what with all this cold weather and snow in recent weeks I'm still craving comfort food. I want warm dinners with meat and two veg and to light a candle on a cold evening and then snuggle up on the sofa feeling full and content! This cottage pie is so good, you'll be going back for second helpings.
This is a cottage pie because I have used beef mince as opposed to a traditional shepherd's pie which should include lamb. I'm not a massive fan of lamb but if you preferred to use lamb for this then there's no reason why you couldn't.
The great thing about this recipe is that you could prepare the pie and assemble it, and then freeze it to cook at a later date, or you can cook it and then freeze in individual portions for lunches or what about taking it to someone you know that's just had a baby so they have a quick nutritious meal and don't have to worry about spending time cooking?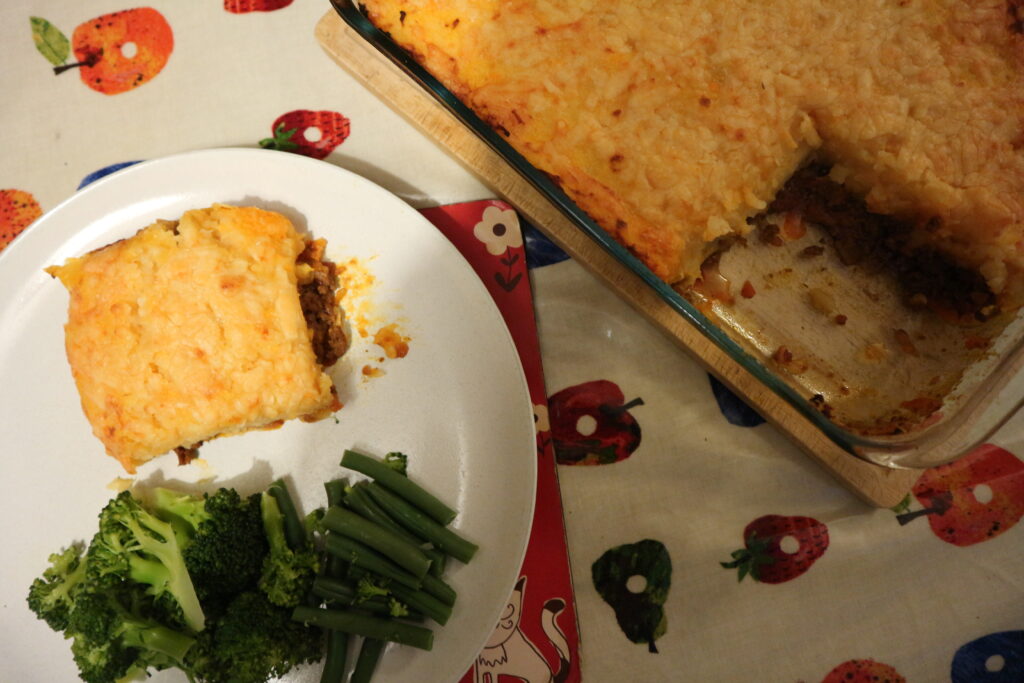 This recipe serves two adults and two children with at least two portions left over for subsequent meals. We served it with broccoli and green beans but you could also try it with peas and sweetcorn or spinach.
Ingredients
1 tsp olive oil
3 rashers smoked streaky bacon, cut into small pieces
500g organic steak mince
1 red onion, diced
2 cloves of garlic, crushed
1 stick celery, diced
3 medium carrots, grated
2 tbsp Worcestershire sauce
2 tbsp tomato puree
2 Beef stock cubes dissolved in 500ml boiling water
1 tsp dried mixed herbs
1 medium sweet potato
4-5 white potatoes (approx 900g)
2 parsnips (core removed)
A handful of grated cheddar cheese
Method
Warm the oil in a large, deep frying pan and then add the bacon. Fry for a couple of minutes before adding in the onion, carrot and celery. Leave on a low heat with the lid on to soften for about 10 minutes before adding the garlic.
Cook for another minute before adding in the beef and cooking until browned.
Stir the beef and break up the bigger lumps of mince before adding in the Worcestershire sauce, tomato puree, beef stock and herbs.
Leave to simmer on a low heat with the lid on for at least an hour, two if you have time. If you are not able to leave the meat sauce to reduce for two hours and there is excess liquid when you come to assemble the pie, add a heaped teaspoon of cornflour to a cup and add a dash of water, mix and then add to your sauce and stir until thickened up.
While the meat sauce is cooking, prepare the potatoes and parsnips by peeling and chopping into chunks. Put to boil for 20 minutes and then drain and mash with a knob of butter or margarine and two-three tablespoons of milk (I used oat milk). Season to taste.
Preheat the oven to 200 degrees/Gas mark 6/180 degrees (fan).
When you're ready to assemble the pie, spoon the meat sauce into an ovenproof dish and then spoon the root mash on top before sprinkling over the cheese.
Bake for 30 minutes (put under the grill for the last minute if desired to cook the cheese more) and then serve with your favourite green vegetables.
Have a look at my fun little video of how I assembled the pie:
Why not Pin this recipe for later?: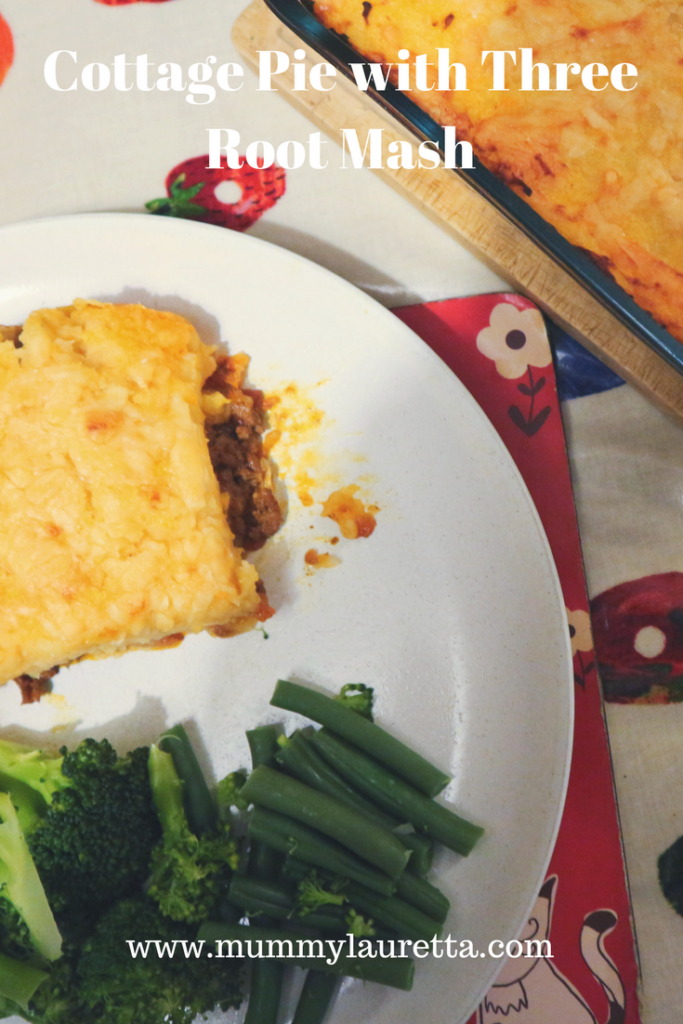 Want more comforting recipes? Why not try my Sausage and Bean Casserole or my Three Bean Chilli?
Thank you for reading. Let me know what your favourite comfort food is in the comments below.
Linking up with #KCACOLS: