So when did my connection to Italy begin? Most people think it began when I met Matteo in 2003 but actually it was quite a bit before that.  My first taste of Italy was as a teenager.  We stayed in Sorrento and visited Pompei and Capri.  Something about the people, the food and the language must have drawn me in as while I was doing my A levels I started teaching myself some language basics using an audio course.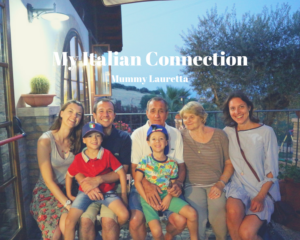 I decided to apply to study languages at Hull University and in my third year of the four year course I got to do Erasmus and spent half of the year in Italy.  I chose to study in Urbino.  I didn't want to go to a big town or city like I was going to do for the second half of the year and Urbino sounded like a great university town where I could stay in halls, make some friends and practice my Italian.  Urbino is only reachable by car or bus approximately 90km from the nearest airport, Ancona.  From Ancona I took the train to Pesaro and jumped on the bus. As we were approaching the town on the windy roads coming through the hills of the Apennines I caught a glimpse of the town and instantly fell in love.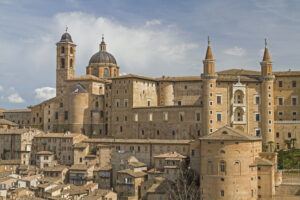 There's something that just gets me about the Palazzo Ducale like a castle out of a fairytale, the cobbled streets, the cafes we used to go to for tea and hot chocolate, slices of pizza at the Pizzeria, everyday items from the €1 shop, sitting up at the Fortezza at the top of the hill looking down over the view in the photo above, it's just magical. I'm so lucky to have been able to take Matteo before the boys were born and then a couple of years ago go again with my Mum and Matteo's sister for a quick day trip.  I hope to take the boys one day.
While I was in Urbino, I also did some travelling and visited Bologna, Ravenna, Padova, Venice, Verona, Parma and Florence. I became interested in art and visited all the cathedrals and churches to marvel at the amazing paintings.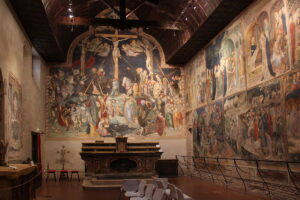 After I left Urbino, I went to live in Seville in Spain for five months.  When I left there at the end of June 2003, I went to stay with my friend Roberta and her family for two weeks.  We stayed in beautiful Sardinia where the sea was the most amazing blue I've ever seen and then travelled back to their flat in the Marche region.  My Italian was a bit rusty after five months in Spain but by the end of those two weeks I was a lot more confident again.  I went back home to England after that year away, the best year of my life so far, where I'd experienced two different cultures, made new friends, tried new foods, travelled to new cities and countries (I also visited Portugal during my stay in Seville), learnt so much about myself and become even more independent but the one thing I hadn't experience was romance.  I'd sworn I didn't want an Italian or Spanish boyfriend as they were all sleazy, greasy, calling to you as you walk down the street and way too into their looks.  Three weeks later I went on a night out in Nottingham with my friend Caz and met Matteo and the start of the rest of my Italian adventure began.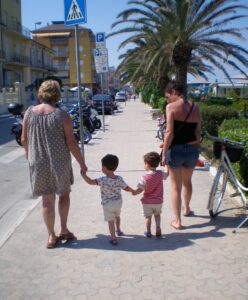 The first three years of our relationship were tough, doing the long distance thing firstly with me in my final year at uni and later working and living in different cities.  I got a job where I was able to use my languages and visited Italy quite a few times for work.  Matteo and I moved in together in 2006 and then bought a house together a year later.  Our boys were born in 2011 and until then we hadn't spent Christmas together. Since 2014 we have been alternating where we spend Christmas and since we went to Italy last year we are staying here this year.   We have also been to Italy quite a few times on holiday as a couple to visit his parents in Como and then as a family to the Marche and Abruzzo regions.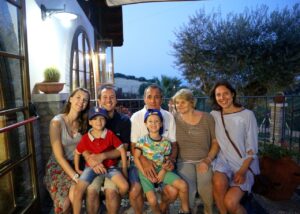 The boys love Italy, this summer they spent four weeks in Italy with Matteo's parents and his sister and they had a brilliant time plus their Italian came on so much.  Matteo has always felt strongly about them learning Italian and has therefore always spoken to them and read to them in Italian as well as letting them watch films and cartoons in the language so they are hearing it every day.
I hope you have enjoyed reading our story about my connection to Italy.  Click here to see a video of our holiday in Abruzzo this summer.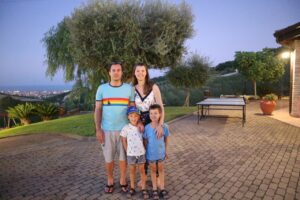 This is my first link up to #dolcevitabloggers with Kelly from italianatheart.com, Jasmine from questadolcevita.com and Kristie from mammaprada.com
SaveSave