We're having a bumper crop of courgettes at the minute thanks to some amazing sunny weather and lots of rain too. I've also had two rather large marrows because I missed them underneath all the huge leaves and didn't go down to the vegetable patch for two days because of the rain. I came up with this recipe and it worked really well, Oliver asked me as soon as he'd finished when i could make it again so I consider that a win!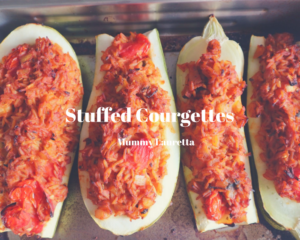 This recipe serves two adults and two children. We served them with some fish and spinach and garlic bread but you could serve it with a vegan alternative like an vegan escalope. If you don't have any nutritional yeast and don't have a dairy intolerance you can substitute this with a large handful of grated parmesan cheese.
Ingredients
1 marrow sliced in the middle and then lengthways or
4 standard size courgettes
1 packet Uncle Ben's Special Microwave Rice Tomato & Basil
1 tbsp olive oil
1 onion chopped
1 large clove of garlic crushed
1 tsp dried oregano
1 handful fresh mint leaves torn
1tbsp tomato puree
8-12 cherry tomatoes
1 heaped tsp nutritional yeast
150ml vegetable stock
Salt & Pepper
Method
Scoop with the flesh from the courgettes or marrow with a teaspoon or desert spoon and put to one side.
Heat the olive oil in a large frying pan and fry the onion on a low heat for about 5 minutes until softened and then add the garlic. Fry for 1 minute before adding the flesh of the courgettes plus all the other ingredients apart from the rice and the stock.
Leave to cook for about 10 minutes until the courgette flesh is soft.
While this is cooking, pre-heat the oven to 170 degrees C ( 150 – Fan) and place the courgettes in a large roasting tray.
Separate the rice by massaging the packet and then add the rice to the frying pan. Stir and leave to cook for a few minutes. Taste and season again if needed before spooning into the courgettes. Drizzle with olive oil.
Pour the stock into the bottom of the tray and cover the tray with foil. Place on the middle shelf of the oven and bake for one hour. Remove the foil and bake for another20-30 minutes checking the courgettes and rice are cooked.
Serve as preferred.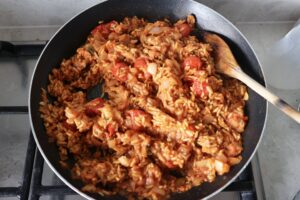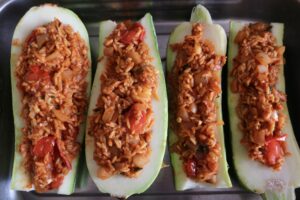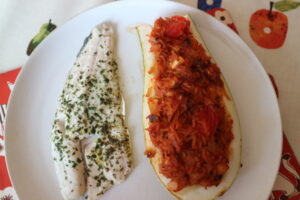 Why not Pin this recipe for later?: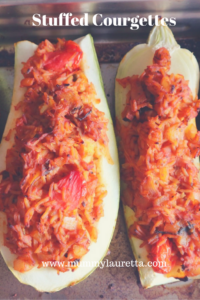 Linking up to #KCACOLS: