Making a Birthday cake for my boys has become a tradition, something that my Mum always did for my brother and I, and so something I wanted to do for my children. Each year I do something a little different but the one constant factor is chocolate! I have been using the same recipe for the sponge and buttercream for five years now and we all love it. The sponge is soft, light and wonderfully chocolatey and the buttercream is just addictive! I'm no pro when it comes to looks and decoration (as you will see from the photos below!) but my boys don't care, they just like the fact that I made it and that it tastes good. I hope they will remember these special cakes just like I remember mine.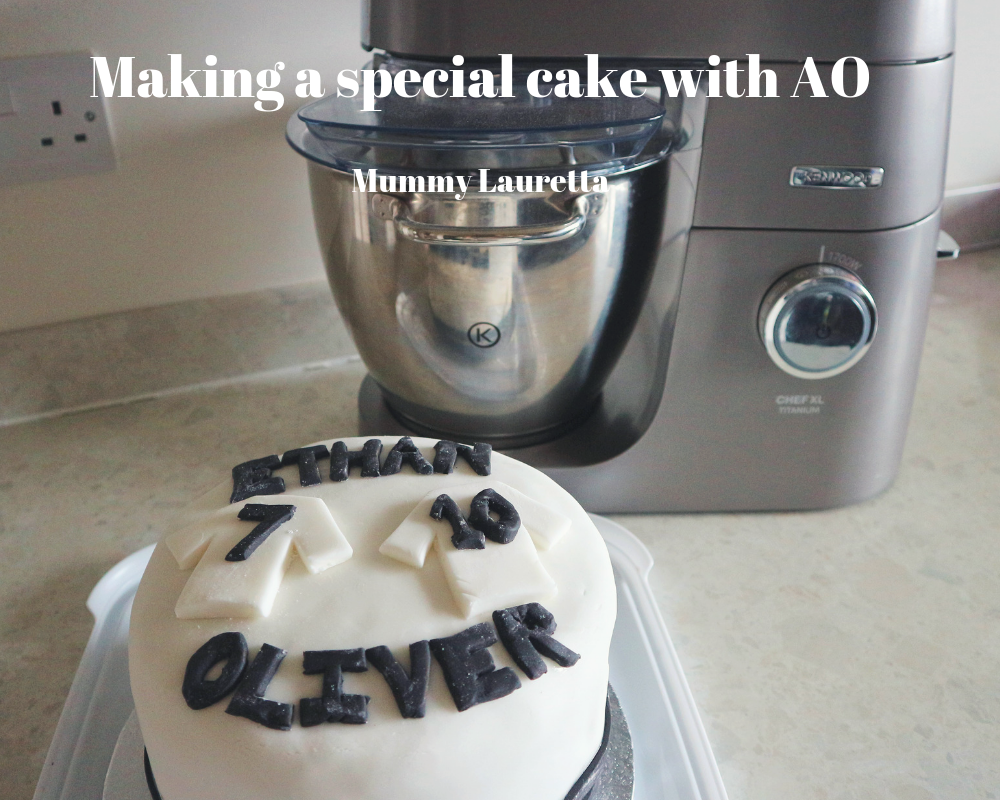 This year my life has been made so much easier by AO who offered to send me the Kenwood Chef Titanium XL KVL8300S Kitchen Mixer to try out and review. I jumped at the chance as although I love my trusty Kenwood hand mixer, I have had a stand mixer like this on my wish list for a very long time.  I couldn't wait to use this to make the boys' birthday cake.
Key Information about the Kenwood Chef Titanium XL KVL8300S Kitchen Machine:
| | | |
| --- | --- | --- |
| | Dimensions | (H)35.6 x (W)38.0 x (D)28.5 |
| | Capacity | 6.7 Litres |
| | Manufacturer Warranty | 10 Year |
| | Manufacturer Warranty Domestic Use Only | Yes |
| | Number of Accessories | 3 |
| | Power | 1700 Watt |
| | Pulse Function | Yes |
| | Variable Speeds | Yes |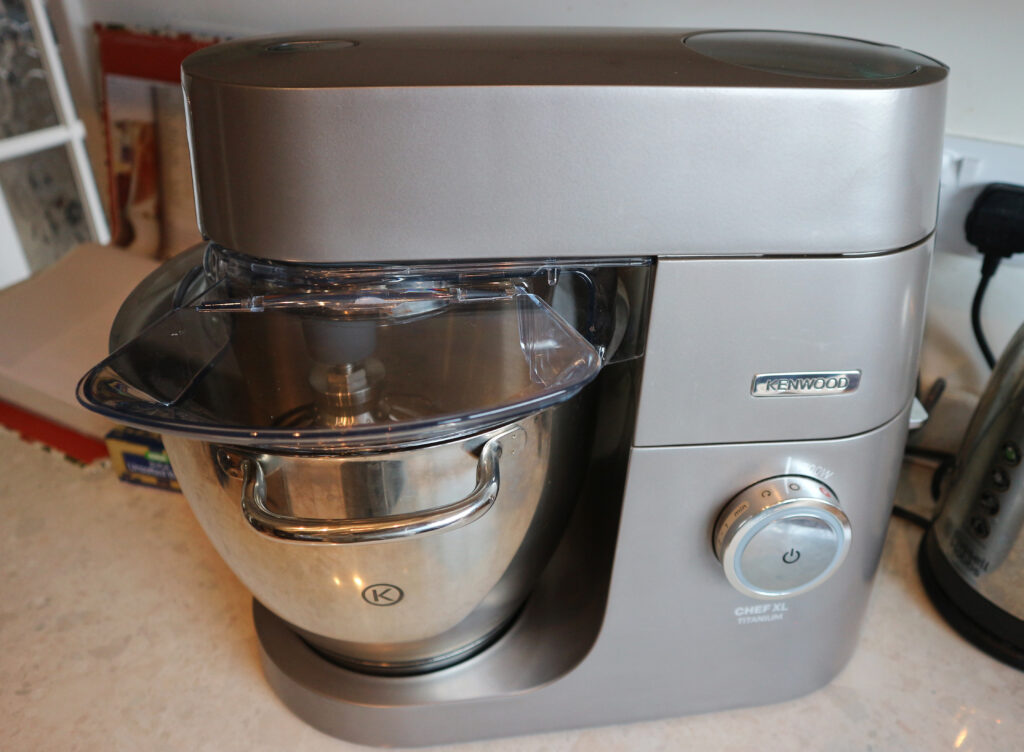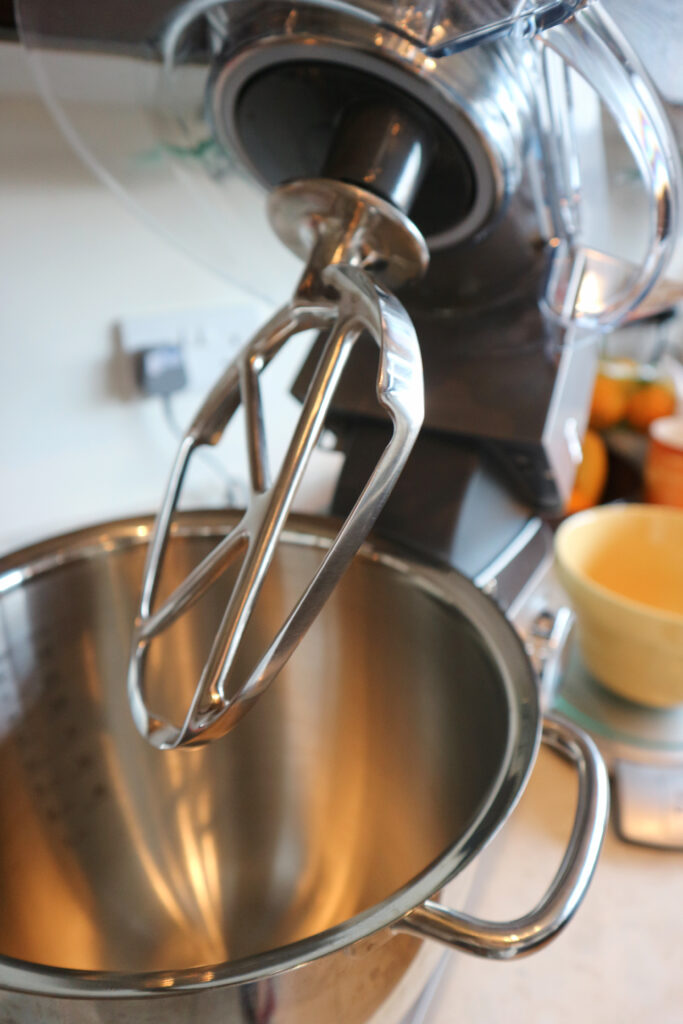 My thoughts on the mixer:
I love the fact that the mixer is big, so that making a big cake like this is easy in terms of fitting all the ingredients in at once. I love that I can gradually add ingredients while the mixer is working, as before using a hand mixer I had to keep putting it down as I couldn't hold the bowl, mixer and jug for example.
The splash guard is amazing for keeping splatters of batter inside the bowl and saving my walls! It is also a life saver when you're making buttercream and there is a cloud of icing sugar – I used to use a damp tea towel to stop everything in the kitchen being covered!
The mixer is really powerful. I only used it on the first two settings and to me it was going round fast. This means you save time. I also love the over-bowl light because it means that on dull winter days and evenings, you can still bake and see exactly what you're doing.
If I'm being really honest, the mixer is too big for our kitchen and a little big for what we use it for but other than that, I cannot fault it. Since having it, I have made two other small cakes in it using the K beater. I have also made pizza dough twice using the dough hook – see my Instagram baking story highlights. I am yet to try the whisk attachment but may get to give it a go at Christmas to whisk some cream for a trifle! It is really easy to clean and change the attachments and they are also dishwasher safe.
If you wanted to, there are also 25+ other accessories that you can buy separately for the machine, like a blender and pasta maker.
It would make a perfect Christmas present for the person in your life that loves baking.
It is currently on offer for £399 (£200 off) with next day or named day delivery option available.
Keep scrolling for the cake recipe…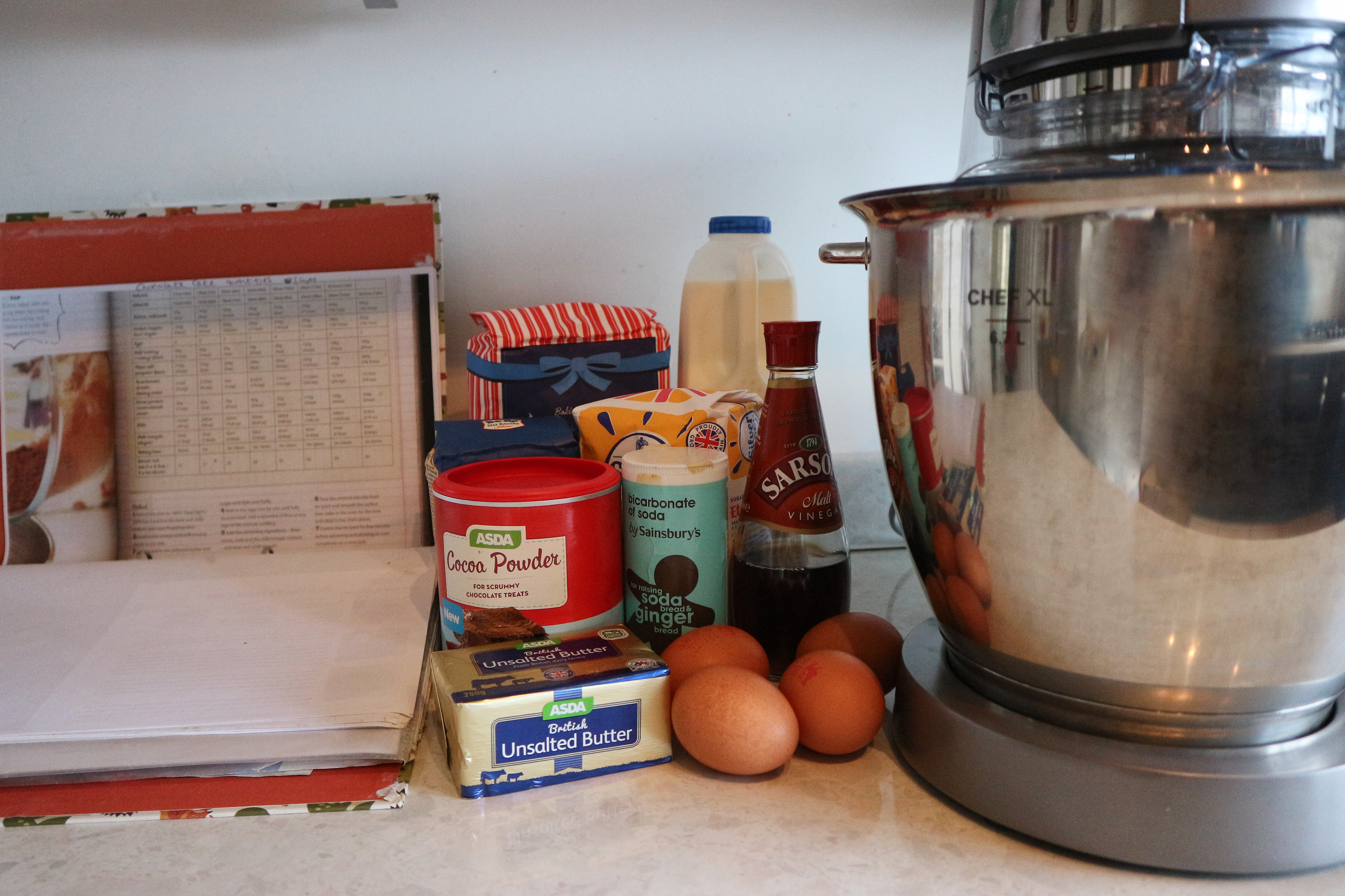 The Pink Whisk perfect chocolate cake recipe
To make a 3 layer 20cm cake I use the following quantities:
225g butter (softened – room temperature)
410g caster sugar
4 eggs
280g plain flour
90g self-raising flour
1.5 tsp bicarbonate of soda
90g cocoa powder
300ml milk
3 tbsp malt vinegar
600g icing sugar
200g unsalted butter (softened – room temperature)
80g cocoa powder
80ml whole milk
Method – Cake:
Measure the milk in a jug and add the vinegar. Leave to one side.
Cream the butter and sugar together. Add the eggs one at a time and at any signs of curdling add a little sieved flour. Sift in the rest of the dry ingredients, mix, and then add in the milk mixture.
Divide equally between three greased and lined 20cm cake tins.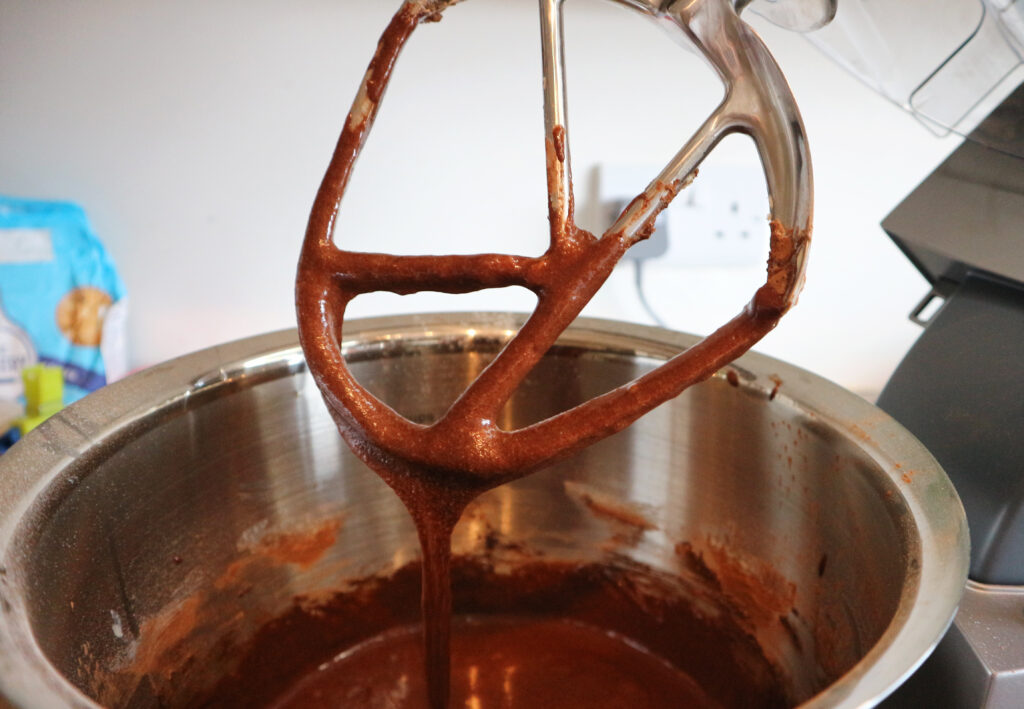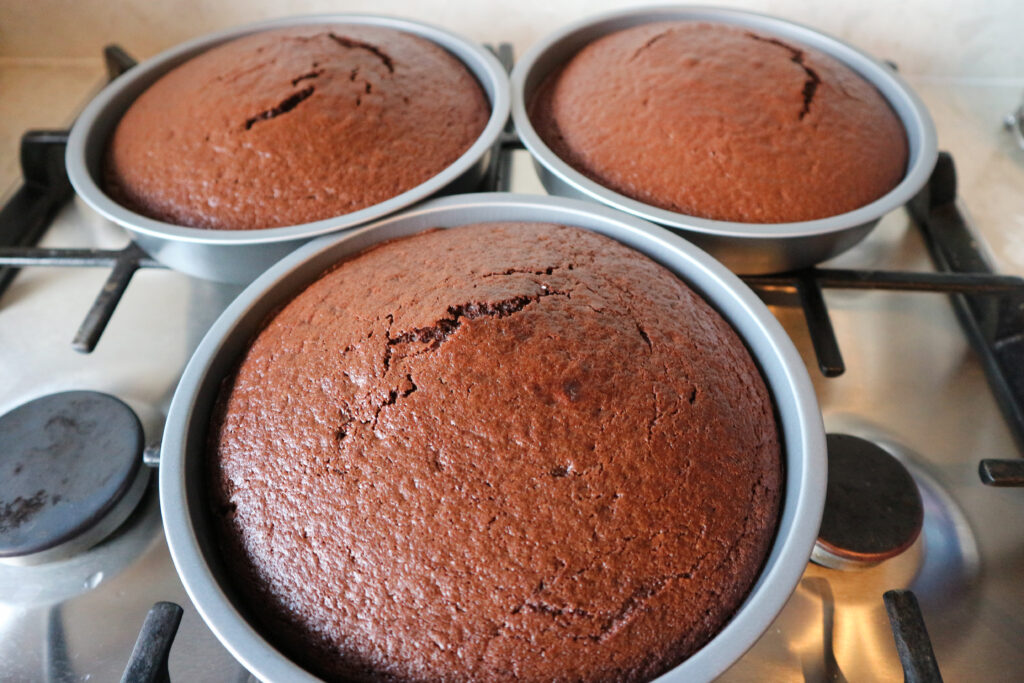 Method – Chocolate Buttercream
Mix the icing sugar, butter and cocoa together until smooth before adding the milk. Keep mixing for about five minutes until the buttercream becomes light and fluffy.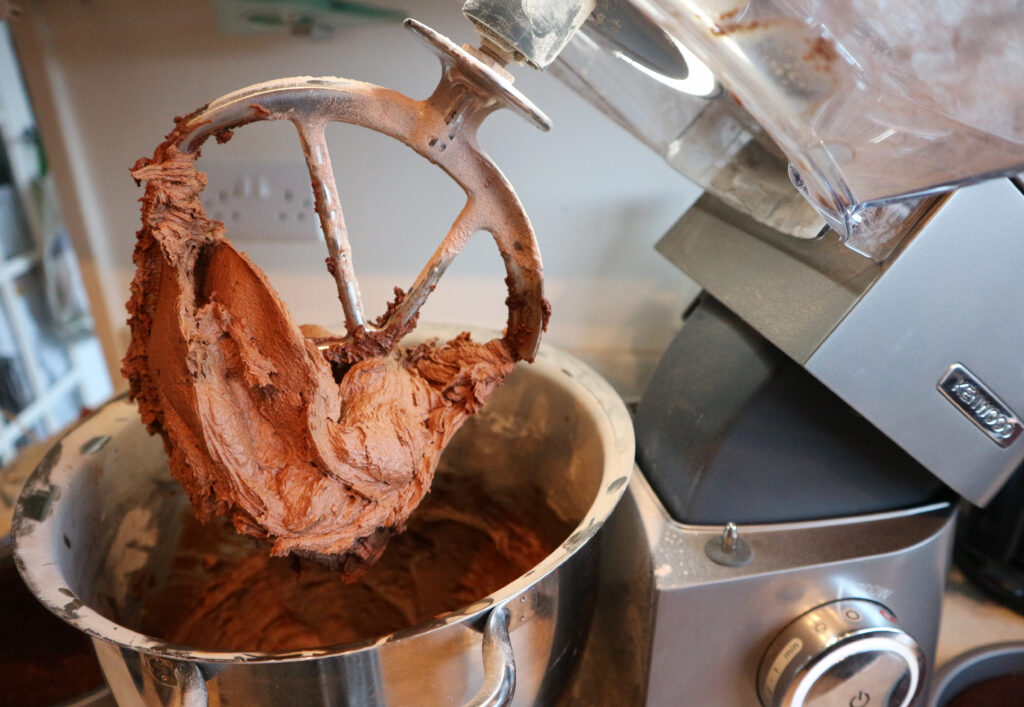 Level the cakes using a large knife (a bread knife works really well). Layer up the cakes spreading the buttercream between each layer using a spatula and then all around the outside of the cake.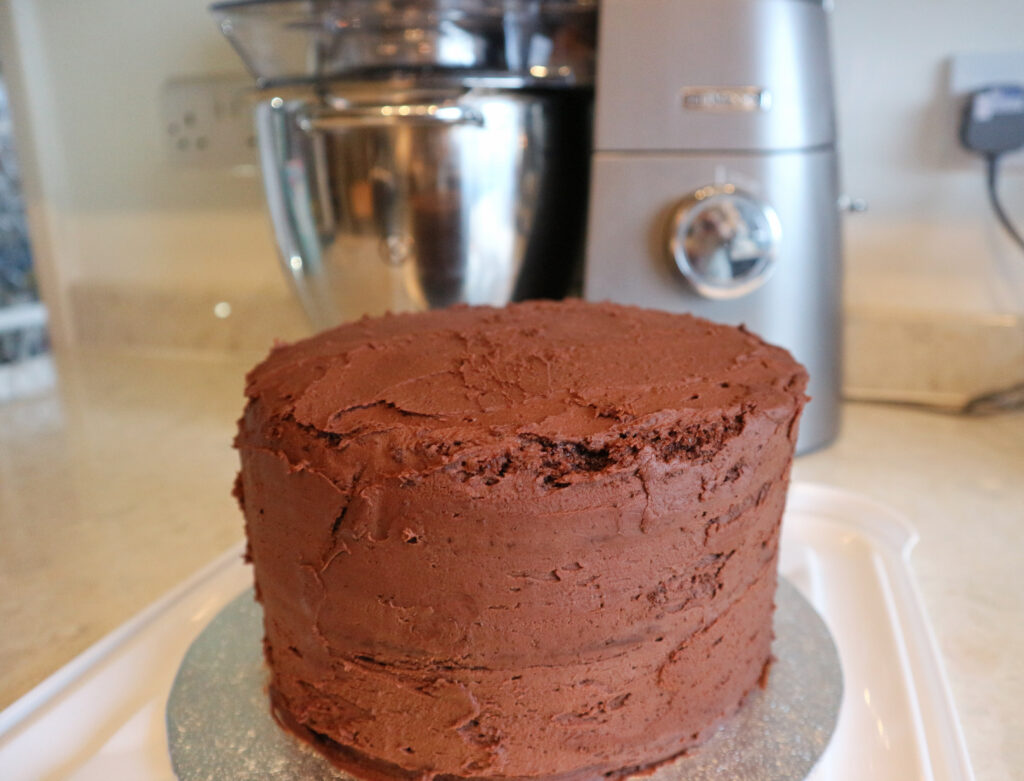 For the decoration I bought a big block of pre-made white fondant icing and a small block of black fondant. I rolled these out and created the shapes myself just using a large sharp knife.
For tips and a step by step guide on how to successfully cover a cake with fondant, see Ruth Clemens' post here.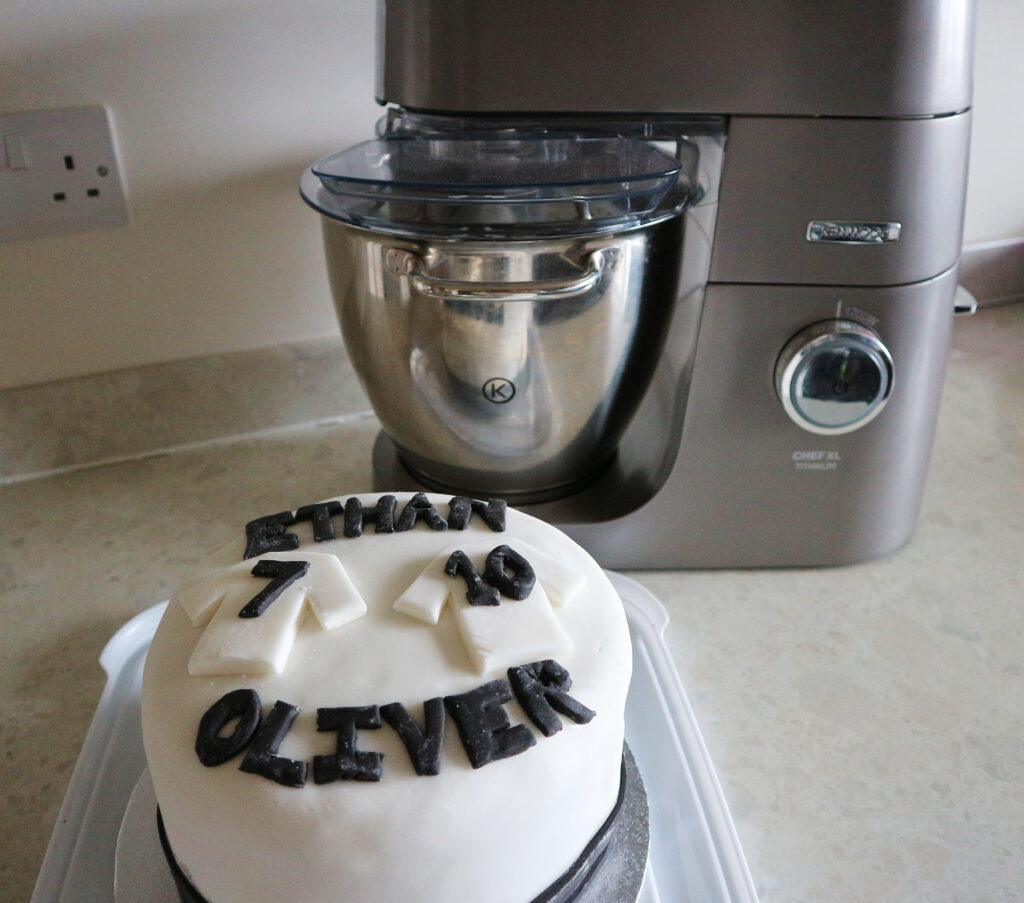 *Disclosure – We were sent the Kenwood mixer in exchange for an honest review and blog post. As ever, all opinions are my own*
Why not Pin this post for later?: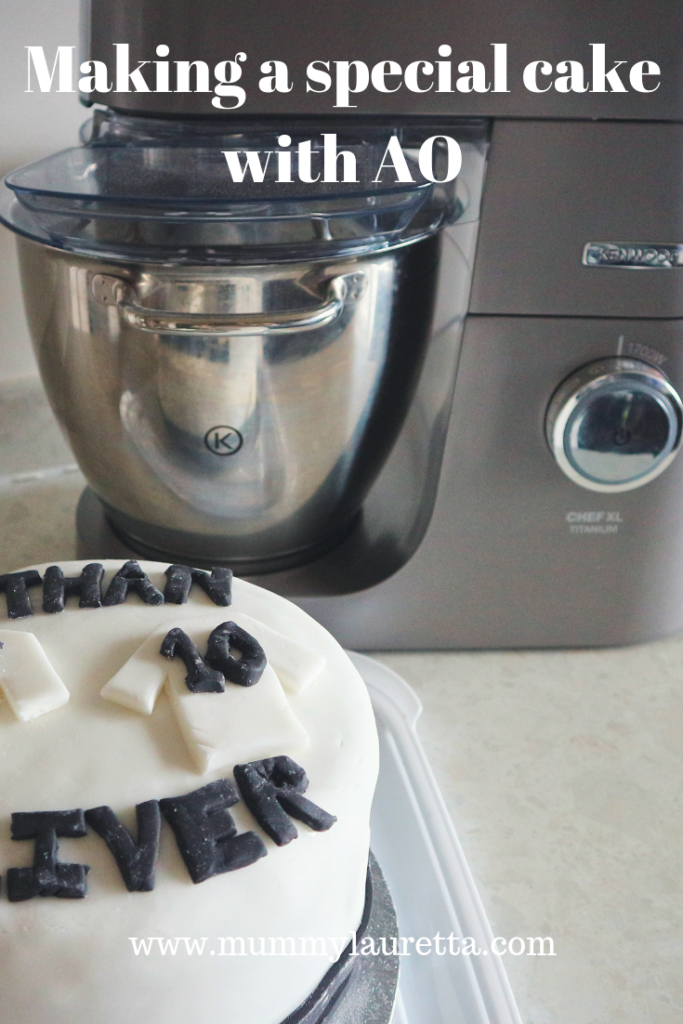 If you enjoyed this post you may also like: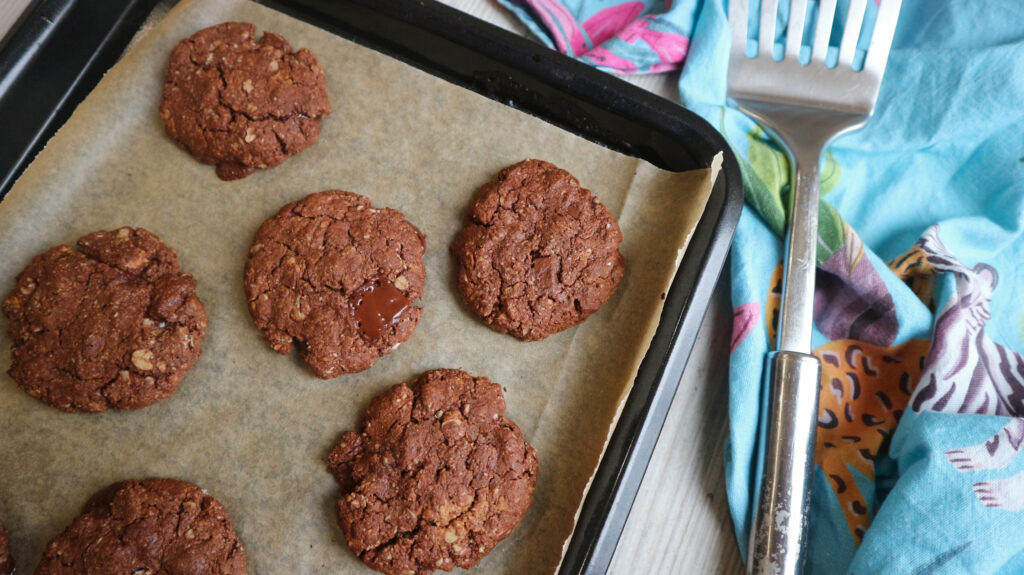 Cooking with Kids – Homemade Pizza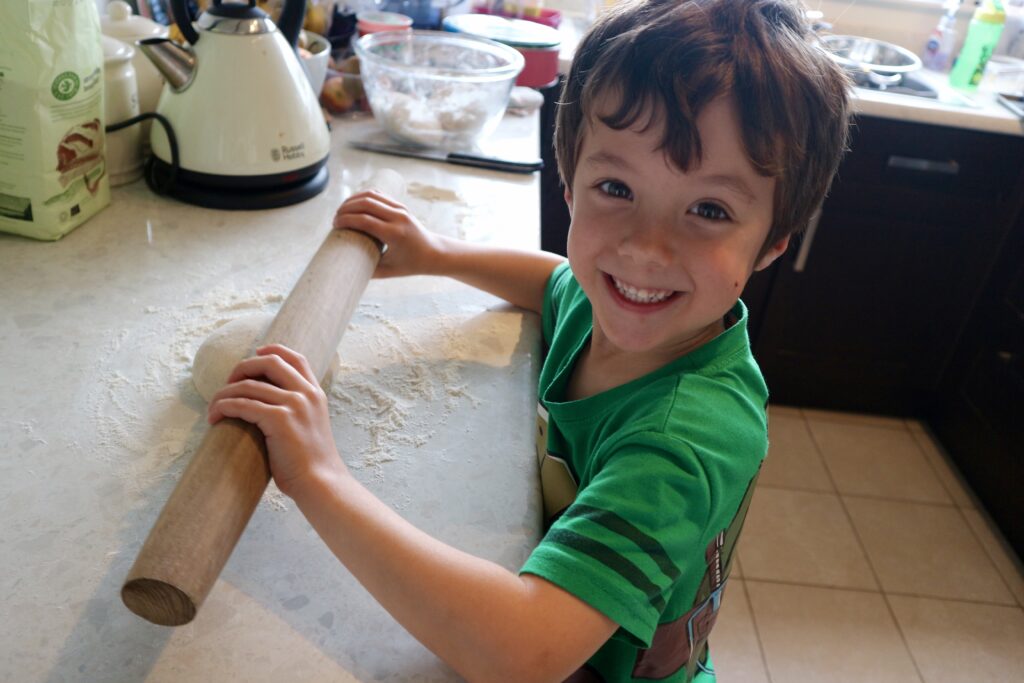 Linking up with #KCACOLS: